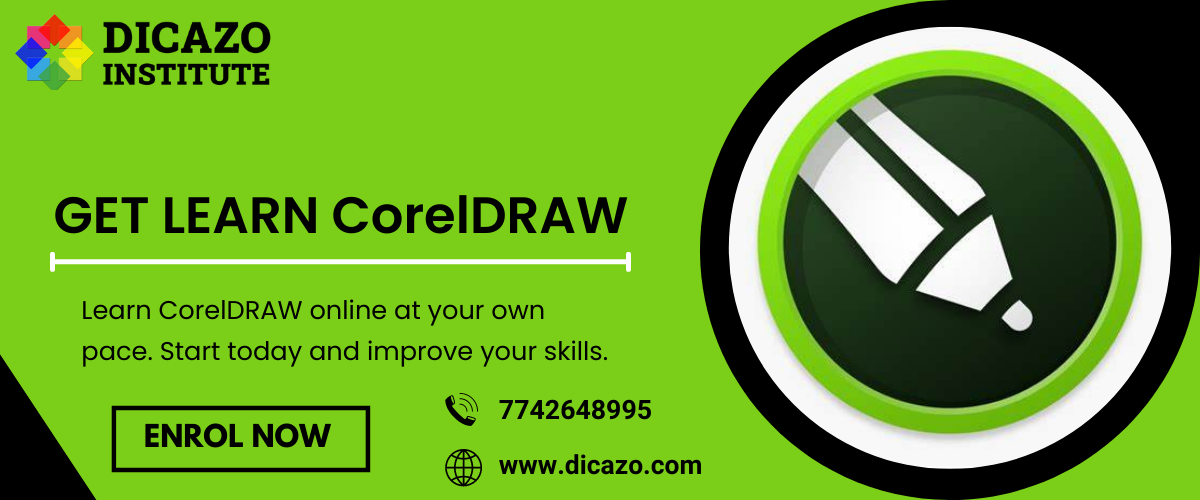 Corel Draw course in jaipur. This course will teach students the basics of this point-and-line design system, including such elements as art board control, zooming and scrolling, using and customizing keyboard shortcuts and fine-tuning image transformations etc. and building custom shapes, modifying the art board grid, adding and manipulating text, creating animations and taking advantage of the raster-conversion feature,Coreldraw classes/Training in Jaipur.
It is also geared towards various type of drawing, such as fashion design, cartography, cartooning or architectural drafting. Since the vector design system is so flexible, Illustrator courses can be helpful to creative professionals in nearly any visual discipline.
Learning Outcomes of Corel
Navigate the CorelDRAW interface
Explore viewing modes and customizing options
Create and manipulate objects
Outline, fill, and transform objects
Use layers and special effects
Create and edit images and text
Use tools, palettes, symbols, clipart, and work with bitmaps
Save, and print design layouts
Apply styles and templates
Create animations, sprites, and interactive movies
Coreldraw Training in Jaipur.
CAREER OPTIONS AFTER COURSE
Graphic Designer
Graphic Tutors
Product Designer
Character Designer
Game Designer
Image/Photo Editor
CorelDraw is a 2D Vector based lay-outing application. In India, it is the backbone of DTP or Desktop Publishing and graphic design industry. It has an extensive range of tools that enable anyone to edit any shape or design with ease and precision, fitting of text according to the shape or design and creating custom color completely. It is also capable to make graphical artists task easier, simpler and faster to understand.
For marketing companies, advertising agencies, and other like companies Corel Draw can be highly important to know so that an employee can do the editing required with one of the top software programs on the market. For those who are learning graphic design for any type of business Corel Draw is one of the software products to be familiar with. CorelDraw is not only a illustration & lay outing software but also it is an image editing software too.
Some of the common uses of CorelDraw are:
Stationery Designing
Magazine Designing
News Paper Designing
Books Designing
Illustration Making
Logo Making
Designing of Calendar And many more…
Basic Features of Coral Draw will be included in this workshop such as Artistic Text, Working with Shapes ; Curves and Objects ,Illustration, Page Layout, Managing Layers And Pages , Fun With Mask and Effect, Symbols ;Clipart And Bitmaps.
Best Coreldraw Training in Jaipur & Best Coreldraw Training Institute in Jaipur
Join Best Coreldraw Training in Jaipur, Coreldraw Course in Jaipur, Corel Draw course in Jaipur
Dicazo Jaipur offers Coreldraw Training in Jaipur. Live projects and simulations are part of the in-depth instruction provided by the Coreldraw training facility in Jaipur. Such an extensive CorelDraw training program has helped our students land jobs with some of the world's largest corporations. Subject-specialist corporate professionals provide Coreldraw Training in Jaipur at Dicazo Jaipur. Coreldraw certification holders have a wide range of work options in the business.
Our Coreldraw course in Jaipur is also flexible in terms of time. Attendees can choose from a variety of Coreldraw training options, including online, fast-track, and one-on-one sessions. Our state-of-the-art lab makes it possible for students to complete their CorelDraw training and certification requirements easily.
If you're looking for the best Coreldraw training institute in Jaipur, go no further than DICAZO Jaipur. You can choose the top Coreldraw training institute in Jaipur if you're a student, an IT professional, or a project manager; they all offer the greatest training atmosphere, seasoned Coreldraw teachers with years of experience, and flexible training schedules for all modules. In addition, the premier Coreldraw training facility in Jaipur charges students a reasonable tuition rate. Students from many walks of life can afford the affordable Coreldraw course pricing structure.
After taking a Coreldraw course in Jaipur, it's essential to brush up on your interviewing abilities. With our Coreldraw classes in Jaipur, we also have procedures in personality development, English speaking, and presentation. Recruitment drives are scheduled by the Placement team at our Coreldraw training center in Jaipur, and the technology-driven brand organizations that attend hand-pick our students. Our aspirants have given us a "star five" rating for our Coreldraw training in Jaipur with placement support. Our official website includes testimonials and user reviews. Dicazo Jaipur is one of the best places in Jaipur to learn CorelDraw, producing industry-ready experts.
A state-of-the-art laboratory at Dicazo Jaipur houses the newest technology, allowing students to gain valuable hands-on experience through actual projects. Participants gain the self-assurance they need to meet the day-to-day challenges of their jobs with this type of Jaipur training. In addition to placement aid, the Coreldraw syllabus includes a subject on real-time projects. Drawing and shaping objects, customizing options, transformations, outlining and filling things, arranging objects, working with text as well as using layers are just some of the topics covered in Coreldraw's tutorials. Check out the course length, content, and syllabus listed below. –
Coreldraw Course Fee and Duration
Track
Regular Track
Weekend Track
Fast Track
Course Duration
45 – 60 Days
8 Weekends
5 Days
Hours
2 hours a day
3 hours a day
6+ hours a day
Training Mode
Live Classroom
Live Classroom
Live Classroom
Course Content and Syllabus for Coreldraw Training in Jaipur
Coreldraw Course Contents
CorelDraw Basic and Interface Getting Started
Exploring the CorelDraw Screen
File Management
Setting Up the Page
Moving Around and Viewing Drawings
Moving Around the Current Page
Viewing Modes
Inserting and Deleting Pages
Changing Page
Customizing Options
Using Multiple Workspaces
Customizing the Toolbars
Using Shortcuts
Saving Defaults
Setting File Backups
Creation and Manipulation Drawing and Shaping Objects, Corel Draw course in Jaipur
Drawing and Shaping Tools
Using the Freehand Tool
Drawing Lines and Polylines
Drawing Freehand Polygons
Drawing Perfect Shapes
Reshaping Lines and Polylines
Drawing Curves
Reshaping Curves
Drawing Rectangles
Drawing Circles
Selecting & Manipulating Objects
Selecting and Deselecting Objects
Moving Objects
Copying and Deleting Objects
Deleting Objects
Sizing Objects
Transforming Objects
Mirroring Objects
Rotating and Skewing Objects
Using Transform Objects
Outlining & Filling Objects
Eyedropper and Paint bucket Tool
The Outline Tool
Choosing Outline Thickness
Choosing Outline Colors
Using Fill Tool
Uniform Fill, Fountain Fill, Pattern Fill
Interactive Mesh Fill
Copying Attributes
Setting Outline and Fill Defaults
Arranging Objects
Arranging Objects
Grouping and Ungrouping Objects
Using Guidelines
Using Snap To
Aligning Objects
Group and Child Objects
Welding Objects
Using Intersection
Using Trim
Using Layers
About Layers
Editing Layers
Setting Up a Master Layer
Moving, Copying, and Layer
Reordering Layers
Using the Object Manager
PHP Syntax
Working with special Effects and Texts Special Effects
Drawing with The Artistic Media Tool
Shaping an Object with an Envelope
Extruding an Object
Blending two Objects
Using the Lens Effect
Adding Perspectives
Using Power Clips
Applying Contours
Applying Drop Shadows
Using Interactive Transparencies
Applying Mesh Fills
Working with Text
The Text Tool
Creating Artistic Text
Editing Text
Formatting Text
Setting Text Options
Creating Paragraph Text
Setting Indents Using the Ruler
Importing Text
Using the Spell Checker
Working with Paragraph
Text Implementing Color
Management
Creating Custom Color Palettes
Choosing a Color Using Color
Harmonies
Applying Colors Using the Color
Docker
Automatically Creating Color Styles
Importing and Sizing Paragraph Text
Flowing Text Between Frames
Formatting Paragraph Frames
Wrapping Paragraph Text Around
Objects
Applying Drop Caps
Typing Text into Objects
Special Text Effects
Fitting Text to a Path
Converting Text to Curves
Creating Blended Text Shadows
Special Text Effects
Jumpy Text
Neon Text
Glowing Text
Chrome Text
Bevel Text
Creating Enveloped Text
Using Symbols and Clipart
Inserting Text Symbols
Adding Clipart
Modifying Clipart
Working with Bitmaps
What is a Bitmaps
Importing Bitmap Options
Adjusting Color
Hiding Certain Colors in a Bitmap
Applying Special Bitmap Effects
Creating Web Images
Advanced GIF Options
Page layout, printing Exporting and Advanced Features Special Page Layouts
Creating a Greeting Card
Print Previewing the Layout
Creating Labels
Printing
Print Options
Print Previewing
Exporting Drawings
Exporting to Graphic Formats
Copy and Pasting Into Other
Applications
Using Styles and Templates
About Styles and Templates
Creating a style
Applying a Style
Copying Properties
Custom Creation Tools
Creating Custom Patterns
Managing and Using Symbols
Using Corel Trace
Types of Graphic Formats
About Corel Trace
Tracing Image
Importing Traced Files into CorelDraw
Special Trace Effects
Using Corel R.A.V.E.
About Corel RAVE
Playing sample RAVE
Performing the five steps necessary to
create RAVE animations
Working with the Timeline Docker
Tweening objects to create animation
Exporting to Macromedia Flash
Format
Publishing to the web Create web
Rollovers
Inserting Hyperlinks
Creating Sprites and adding
Behaviors
Creating interactive movies
Top 20 Reasons to Choose DICAZO for Coreldraw Training in Jaipur
Our Coreldraw training in Jaipur is developed in compliance to current IT industry.
We provide the best Coreldraw training in Jaipur covering entire course modules during the Coreldraw classes. Also, students avail Coreldraw course in Jaipur with placement assistance.
Coreldraw training in Jaipur are scheduled on weekdays and weekends. Also students can opt for customized schedule according to the requirements, Corel Draw course in Jaipur.
Our team of trainers are industry-experts possessing more than a decade experience in training.
Mentors coaching Coreldraw training in Jaipur not only help students in accomplishing live projects, but also provide session on interview preparation along with placement assistance.
Ultra-modern I.T laboratory equipped with latest infrastructure.
Our lab is open 365 days in a year. Students, according to their convenience can utilize the lab for completing projects and practice the technical assignments.
Our training classrooms are equipped with modern I.T infrastructure such as projectors, live racks, Wi-Fi, and digital pads.
We facilitate our students with glass-door study room and discussion zone area (meeting room) to enhance their learning and exploring abilities.
Along with technical training and course, we organize no cost sessions on personality development spoken English, group discussion, mock interview and presentation skills to develop high level of confidence in students, Corel Draw course in Jaipur.
We also organize no cost personality development and presentation seminars.
Our course material includes books, and soft copies of tutorials in the form of PDFs, sample papers, technical and HR interview questions, and projects available on our website.
Students enrolled to Coreldraw training in Jaipur can also avail hostel facility at Rs.4,500/- a month.
We facilitate students with no cost study material, soft copies of PDFs, video training, sample questions for respective certification, and interview questions along with lab guides made available on our website for quick access.
Our certificates are globally recognized provided after completion of course.
We facilitate students with Extra Time Slots (E.T.S) for doing unlimited practical at no cost.
According to the requirements, students can retake the class at no cost.
Our instructors pay one-to-one attention.
To enhance knowledge of the students, the complex technical concepts are imparted through easy coaching.
We accept master and visa cards (Debit & Credit), also payment mode cash, cheque, and Net Banking available.
Dicazo JaipurTrainer's Profile for Coreldraw Training in Jaipur
DICAZO's Jaipur Coreldraw Trainers are:
Our trainers are industry-experts and subject specialists who have mastered on running applications providing best Coreldraw training to the students.
We have received various prestigious awards by our recognized IT partners and organizations.
Our trainers are MNC working professionals employed in HCL Technologies, Birla-soft, TCS, IBM, Sapient, Agilent Technologies, and so on, Corel Draw course in Jaipur.
Our trainers are certified professionals possessing 7+ years of experience in the industry.
Our trainers have regular coordination with MNCs HR team on daily basis.
Placement Assistance after Coreldraw Training in Jaipur
Along with Coreldraw training in Jaipur, we provide placement assistance to the students.
Dicazo Jaipur with successful 96% placement rate has a dedicated HR wing that assist students in securing placement according to their requirements, Corel Draw course in Jaipur.
Dicazo Jaipurassist students in developing their resume matching the current industry needs.
DICAZO Jaipur, apart from course training, also facilitate students with sessions provided on personality development, spoken English, group discussion, mock interview, and presentation skills to develop a high level of confidence for facing tricky and challenging interviews competently, Corel Draw course in Jaipur.
Dicazo Jaipur provide an in-depth training to the students, which assist them to secure placement in top IT firms such as HCL, TCS, Infosys, Wipro, Accenture, and many more effortlessly.