Best Graphic Designing Course In Jagatpura Jaipur
Learn from basic to professional level Dicazo Institute will help to learn in a professional and easy wary.
Introduction/Course Overview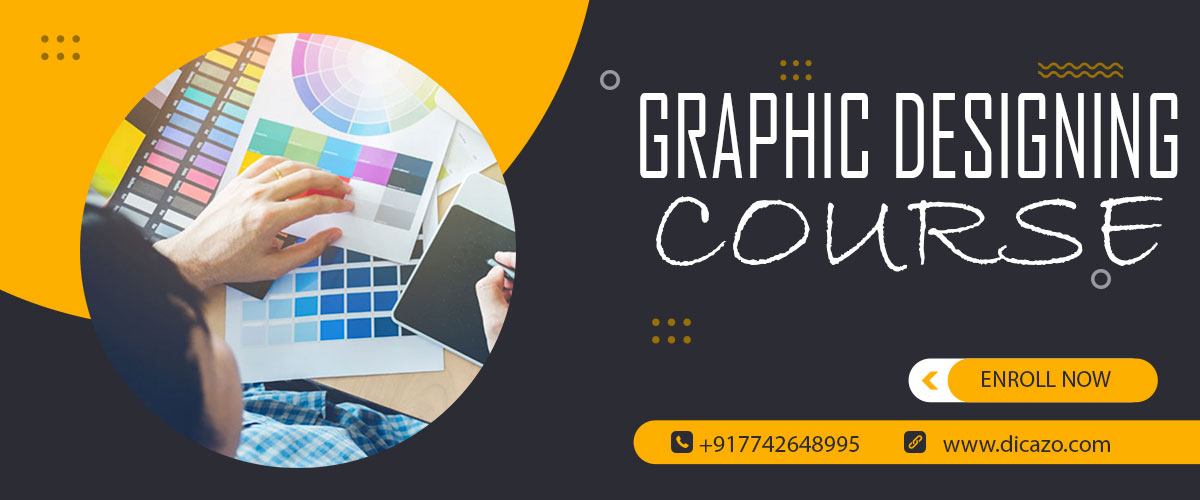 Dicazo Institute is an excellent and professional institute for Graphic Designing In Jagatpura Jaipur. Graphic Design Institute is offering highly creative and advanced training as per the industry need. It is the only institute in Jaipur which provides proper training in graphic designing In Jagatpura Jaipur with a special focus on pre-press, post-press, and sketching classes. Apart from specialized training in graphic designing; we also provide classes for extreme specializations for individual applications such as Adobe Photoshop, Adobe Illustrator, CorelDraw, QuarkXPress, and Adobe InDesign.
Dicazo Institute always try to empower its students with the latest industry working trends so we conduct industrial visits for our students time to time. Our methodology is clear i.e. we want to prepare legends not personnel for the best graphic design industry.
Apart from the further giving computer applications our mentors will focus on various important topics also like creativity enhancement, design principles, typography, file formats, image editing professional techniques, scanning, printing, and personality development etc…
What Will I Learn?
Learn and apply graphic design principles to produce effective designs in Photoshop, Illustrator, corel and InDesign.

Learn and apply color theory and practices to produce effective designs in Photoshop, Illustrator, corel and InDesign.

Learn and apply effective typography to produce effective designs in Photoshop, Illustrator, corel and InDesign.

Design an online ad, design an infographic with effective color, create a gig poster with type as a design component, create an illustrative postcard.
Includes:
Flexible Batch timing
Subject Notes
Supplemental Resources
Portfolio Preparation
Certificate of Completion
Get Real time Projects to Practice
Attend 2 to 3 Classes with free of cost
Free Technical Support after completing course
If you absent any classes, back up Classes available
Free Technical Support on Freelancing Projects to Earn more Money
Free Interntet and Laboratory Facility
Placement Program
Job Assurity: Placement Support. Assist you to get JOB in top MNC's, Mid & Small scale Companies
Resume Preparation Support
Conducted 2 to 3 Mock Tests
Mock Interviews to increase your confident level
You have opportunities to work on Real time Case Studies
Curriculum For This Course
What is Graphic Design
Introduction to Graphic Design
What is Digital Illustrations
Visual communication, Laws of Design
Scribbling layouts
Vector Illustration
Vector vs. Raster
Adobe Photoshop
Lesson 1: INTRODUCTION TO ADOBE PHOTOSHOP
About Photoshop
Navigating Photoshop
Menus and panels
Opening new files
Opening existing files
Lesson 2: Getting Started with Photoshop
Exploring the Toolbox
The New Applications Bar & the Options Bar
Exploring Panels & Menus
Creating & Viewing a New Document
Customizing the Interface
Setting Preferences
Lesson 3: Working with Images
Zooming & Panning an Image
Working with Multiple Images, Rulers, Guides & Grids
Undoing Steps with History
Adjusting Color with the New Adjustments Panel
The New Masks Panel &Vibrance Color Correction Command
The New Note Tool & the Save for Web & Devices Interface
Lesson 4: RESIZING & CROPPING IMAGES
Understanding Pixels & Resolution
The Image Size Command
Interpolation Options
Resizing for Print & Web
Cropping & Straightening an Image
Adjusting Canvas Size & Canvas Rotation
Lesson 5: WORKING WITH BASIC SELECTIONS
Selecting with the Elliptical Marquee Tool
Using the Magic Wand & Free Transform Tool
Selecting with the Regular & Polygonal Lasso Tools
Combining Selections
Using the Magnetic Lasso Tool
Using the Quick Selection Tool & Refine Edge
Modifying Selections
Lesson 6: GETTING STARTED WITH LAYERS
Understanding the Background Layer
Creating, Selecting, Linking & Deleting Layers
Locking & Merging Layers
Copying Layers, Using Perspective & Layer Styles
Filling & Grouping Layers
Introduction to Blending Modes
Blending Modes, Opacity & Fill
Lesson 7: PAINTING IN PHOTOSHOP
Using the Brush Tool
Working with Colors & Swatches
Creating & Using Gradients
Creating & Working with Brushes
Using the Pencil & Eraser Tools
Painting with Selections
Lesson 8: PHOTO RETOUCHING
The Red Eye Tool
The Clone Stamp Tool
The Patch Tool & the Healing Brush Tool
The Spot Healing Brush Tool
The Color Replacement Tool
The Toning & Focus Tools
Painting with History
Lesson 9: INTRODUCTION TO COLOR CORRECTION
Color Spaces & Color Modes
The Variations Command
The Auto Commands
Adjusting Levels
Adjust Curves, Non-Destructively, with Adjustment Layers
Lesson 10: USING QUICK MASK MODE
Quick Mask Options
Painting a Selection
Saving & Removing a Selection from the Background
Lesson 11: WORKING WITH THE PEN TOOL
Understanding Paths & the Pen Tool
Creating Straight & Curved Paths
Creating Combo Paths
Creating a Clipping Path
Lesson 12: CREATING SPECIAL EFFECTS
Getting Started with Photoshop Filters
Smart Filters
Creating Text Effects
Applying Gradients to Text
Lesson 13: EXPORTING YOUR WORK
Saving with Different File Formats
Saving for Web & Devices
Printing Options
Coreldraw
How to Start the CorelDRAWprogram ?
Introduction to the CorelDRAW program, Menu bar & Drawing Toolbox
Overview of Drawing tools
Freehand Tool, Rectangle Tool
Ellipse Tool
Polygon, Spiral & Graph Paper Tools
Editing the object
Deleting, Moving, Scaling, Rotating & Skewing
Shape Tool,Knife Tool, Erase Tool
Smudge Tool, Roughen Tool
How to combine two lines
Learn to use Transformation (Mirror) of object and combine it .
Learn to use Transformation (Rotation), to make a flower
Differentiate Mode of Color
Color Fill Tool
Fill Color, Fountain Fill, Pattern Fill
Texture Fill, PostScript Fill, No Fill
Color Docker Window
Outline Tool :-
Outline Pen, Outline Color
No Outline, Outline Thickness
Arrange Menu
Order, Group, Convert to curve
Convert Outline to object
Edit Menu
Delete,Symbol, Duplicate, Duplicate an object, Clone, Copy Properties From
View Menu
Wireframe, Normal, Enhanced
Interactive Tool
Interactive Blending Tool
Interactive Contour Tool
Interactive Distortion Tool
Interactive Envelope Tool
Interactive Extrude Tool
Interactive Extrude Tool
Interactive Fill Tool
Interactive Mesh Fill
Interactive Transperancy
Eyedropper Tool &Paintbucket Tool
Artistic Media Tool
View Menu
Designing an Advertisement layout.
Designing an Greeting Card with proper measurements & Color effects
Layout Menu
Text Menu
Live demo : Advertisement Layout with proper measurements
Arrange Menu
Shaping – Weld, Trim, Intersect,Simplify, Front Minus Back, Back Minus Front.Close path
Convert outline to object
Effects Menu
Lens, Powerclip, Add Perspective
Rollover
Bitmap Men
Live Demo : Packet / Box
Visiting Card, Letterhead
Final Project
Adobe Illustrator
PHASE – I
Introduction, Interface
Ruler,Guides,Grids,Workspace
Toolbox, Pen tool, Pencil tool
Basic Shapes, Editing shapes
PHASE-VI
Graph tool
Column graph tool
Stacked column graph tool
Bar graph tool, Stacked graph tool
Line graph tool, Area graph tool
Scattered graph tool
PHASE-VII
Text
Text options, Area type text
Text on path, Text wrap
PHASE -VIII
Object Menu
Path Blend,Envelope Distort
Live paint,Livetrace,Crop
Clipping Mask
PHASE IX
PHASE X
Filters
Illustrator filters, Create, Distort
Stylize, Photoshop filters
PHASE XI
Illustrator effects, Convert to shape
Distort,transform, Photoshop effects
Effects gallery
PHASE XII
Saving, Conversion of Raster to Vector
Portfolio Work
Adobe InDesign
Getting Started with InDesign
Installing InDesign
Showing and Hiding Panels
Using the Tools and Control Panel
Opening a Document
Inserting Images or Text in a Document
Creating and Viewing a Document
Creating a New Document
Creating a New Document Using Presets
Changing the Display View
Changing the View with the Zoom Tool ,Viewing and Using Rulers
Using Guides ,Changing Guides & Pasteboard Options , Using Smart Guides
Managing Pages
Using the Pages Panel
Inserting , Navigating , Deleting and Moving Pages
Working with Page Spreads
Working with Master Pages
Working with Page Numbers and Sections
Changing the Page Size
Working with text
Using Type Tools, Creating Type in a Text Frame, Creating Path TypeImporting Text, Flowing Imported Text, Working with Overflow Text, Copying and Moving Text, Changing Fonts, Changing Font Size, Changing Text Leading, Changing Text Kerning, Changing Text tracking, Aligning Paragraphs, Creating a Drop Cap, Setting Text Frame Options.
Placing and Working with Graphic
Placing Graphic
Placing Multiple Graphic
Copying or Moving Graphic
Using the Links Panel
Fitting Graphics in Frames
Working with Objects and Layers
Creating Shapes, Creating Line
Creating Multiple Objects in a Grid
Using the Selection Tool
Using the Direct Selection Tool
Resizing Object, Moving Object
Duplicating Object
Grouping and Combining Object
Aligning Object, Distributing Object
Arranging Object Stack Order
Transforming Object, Scaling Object
Rotating Object
Locking and Unlocking Objects
Applying and Managing Color
Applying Color
Using the Eyedropper Tool
Creating Tint Swatches
Applying Fills, Strokes, and Effects
Applying Fill and Stroke Color
Changing Stroke Attributes Creating Blends and Effects Applying Shadow Effects Applying Feather Effects Applying Corner Object Effects
Working with Points and Paths
Drawing with the Pen Tool
Selecting and Moving Points and Segments, Working with Pathfinder Creating a Compound Path
Working with Tables

Creating Tables, Entering and Editing Text in a Table, Modifying a Table Adjusting Table Rows and Columns Adjusting Tables in the Text Frame
Working with Style
Using the Paragraph Styles or Character Styles Panel, Creating Paragraph Styles, Creating Character Styles, Using Quick Apply
Finalizing a Document
Using Spell Check
Changing Case
Automating the Way You Work
Creating a Library
Exporting a Document
Exporting a Document
Understanding Export File Format
Exporting as a Print PDF
Exporting as a JPEG or PNG

Requirements
Be proficient with using a computer, although prior knowledge of any of the Adobe apps is not necessary. However, this is not an "A to Z" course for every bell and whistle that each app provides, but rather a roadmap for how to make awesome projects that people are willing to pay for or that employers are looking for you to have skills with creating.
Some creative skills (drawing, photography, etc.) are helpful and will definitely give you a better chance at becoming successful as a designer, but not required.
A desire to learn design, whether for a job or for a hobby – design is for everyone!
Who Is The Target Audience?
Employees or Employers that need to gain skills in graphic design so you can produce graphics and print materials for your company.
Beginners that want to start a career as a graphic designer.
Entrepreneurs that plan to start their own business or become a freelancer.
Anyone that wants to learn how to take their creative ideas and put them into a print or digital format.
Portfolio
Successful trainees would be guided on the procedures to create a stunning Portfolio, after which they would be expected to showcase at the end of the course, examples of such portfolios include:
Branding Portfolio and Case Study
Logos and Company Identities for a corporate communication.
Typography Portfolio and letter form study
Advanced image manipulation techniques complied as before and after.
Photography -I and shoot for table top
Photography -II and Portfolio
Colour Theories and Design based on colour theories
Packaging Designs and Prototype
Posters, Danglers, POPs, Leaflets, Menu cards, Invitation & Greetings etc.
Newspaper Design and Infographic Designs
Digital Design and designing for web and tablets
CAREER OPPORTUNITIES
Students who complete this course have the following career options
Graphics Designers
Mobile app designers
Packaging designers
Logo designer
Web Layout designer
Freelancer
WHY DICAZO JAIPUR?
The most important reason why you should consider coming to DICAZO to learn this course is because DICAZO COMPUTER INSTITUTE offers the most integrated courses with the maximum possibility of job opportunities on your profile. As a part of DICAZO India which is a leading platform with thousands of Alumna's and Alumnus's whom have since graduation from the course have been making waves all over there chosen area of concentration while earning big time Cash and Paychecks, DICAZO Jaipur holds much more than just assurance for this course. For more info's on course details or any other issues please call us on 91 9887063980 or mail to:- dicazoinfo@gmail.com.
Students Also Learn These Courses
Frequently Registered Together
Corel Draw + Indesign