Website Design
WordPress
dicazo
January 5, 2022
0 Comments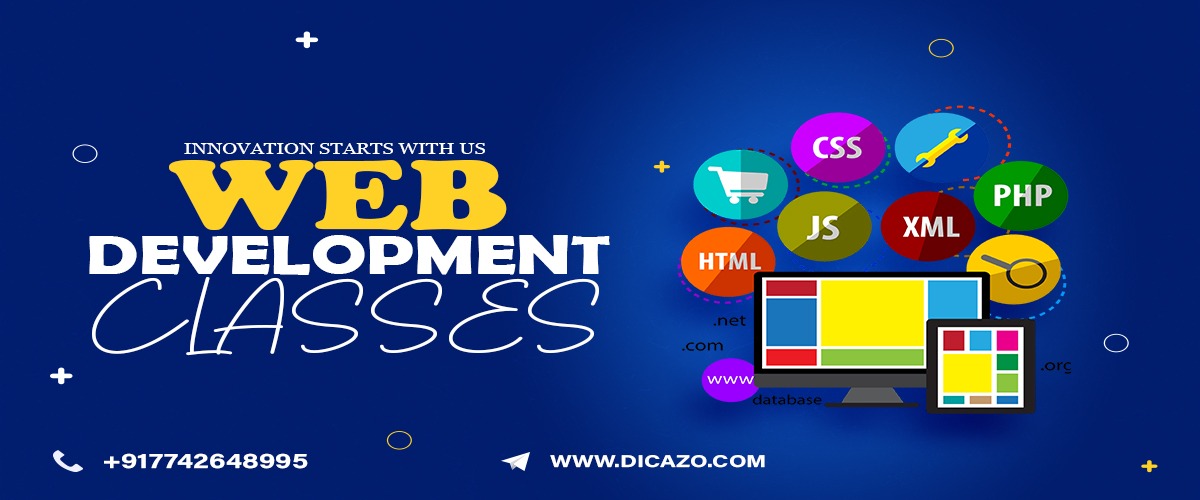 Introduction Of Web Designing
Web Designing Classes in vaishali nagar Jaipur is a highly recognised and in-depth professional training .These courses are designed to prepare students for careers in various fields within the specialisation of digital media, web designing, web animation, web hosting and advertising.
Web design coursesare great way of making a career in growing web industry. Manytop training institutesare providing various courses on web designing across Jaipur. Courses delivered range from short term like 2 month to a certificate or diploma like 6 month duration . It is used in various design industries such as fashion design, interior design, Multimedia, industrial design, visual, sound, and graphic design.
Web designing is an ever growing industry as the internet realm is infinite and there is always need for fresh web pages weather it is for a new company or remodeling of an old website. web designer are always in demand. it is an easy thing to learn and with practice and experience one can excel in it.
Adobe Photoshop cc

Adobe Illustrator cc

HTML4/ HTML5

CSS2/CSS3

Adobe Dreamweaver CC

Javascript

JQuery and JSON

Bootstrap

FTP applications
INTRODUCTION OF BEST WEB DESIGN COURSE IN VAISHALI NAGAR JAIPUR
The Advanced Web Design Course in Jaipur is a 100% practical  training that encompasses all the essentials of web responsive design based on the latest international demands and trends. This course is one of the numerous practical web Designing course offered by Dicazo, a leading web designing institute Dicazohas the vision of equipping students to design websites for corporate, B2B, B2C, E-commerce, etc.
Certification course in Website designing in vaishali nagar JAIPUR is a practical course covering Advanced UI design and UX development intended to train the students through live projects, the intricacies of web designing to promote content Management, Excellent User Experience, and efficient site architecture for search engines. This course would also include Domain, hosting, and payment gateway integration for students interested in becoming online business owners. With this course, the student would be able to develop their skillset in designing internationally standard and state of art websites and also benefit from the course incorporation of web marketing, advertising as well as optimizing websites for search engines. Being a leader Web Designing Institute, Dicazo becomes the first choice of all the web design aspirants.
COURSE OUTLINE
Website User Interface (UI) design

Core Web Design and 

designing responsive websites

Web Design Project +

 Digital marketing

 (Overview)

Web Domain and Hosting maintenance
At the end of this course, Projects would be conducted and each student would be expected to build a web design portfolio for the purpose of placements. Web projects would include
Designing multiple device independent  responsive websites

Design of a simple e-commerce website

Designing multiple Marketing landing pages

Web asset creation
COURSE STRUCTURE
Module1. Designing User Interface of a Web page
Tools and Techniques

Panels and workspace

Layers- Layer styles, Layer effects & Adjustment layers

Creating user interfaces of websites

Advanced Image Color Correction techniques

Typography and Type Effects

Digital and Matt Paintings

Creating Layout for Websites and Landing pages

Saving and Optimizing image Files for Web

Creating 3D effects

Color Management, File Formats, and Workflow
Module 2. Core Web Functionality
HTML5/CSS3 with various code-editors like Adobe Dreamweaver etc.

Introduction to various HTML elements and attributes

Application of HTML Lists and Tables

HTML Graphics- Canvas and SVG

CSS Concepts- Grid, Flexbox, Animations, Selectors, Position, Pseudo-class etc.

Bootstrap functionality and integration to the webpage 

JavaScript concepts and creative applications in web development.

Form validations using HTML5 and JavaScript

Introduction to JQuery and its various applications

AJAX Architecture- Asynchronously sending request and the response

Creating and Testing Responsive design for devices of different sizes

Web Hosting and Domain- Setup and maintenance

Web 3.0 standards

Testing and Maintaining a website

FTP controls
Module 3. Angular
Installation and setup of Angular environment

Introduction to Angular CLI

Difference between Single Page Applications and conventional ones

A brief introduction to TypeScript and its usage in Angular

Integrating Bootstrap in Angular applications

Creating Components in Angular projects and working

Creating and using custom Directives

Types of Binding in Angular (One-way, Two-way etc.)

Introduction to Services and Dependency Injection

Consuming Server-side data (JSON) using HTTP requests

Routing Concepts, Configuration

Forms- Template-driven and Reactive
Module 4. WordPress
Installation and setup of WordPress on Web servers and local server

Theme installation and intro. to various settings

Introduction to the functionality of the Dashboard

Plugin Installation and applications

Creating/Editing articles and pages

Introduction to File Architecture and basic editing to stylesheets
Portfolio Design
Photoshop & XD
Designing for Web UI

Web and mobile Template designs

Web Design inspirations

Working for UI assets-  icons and Symbols

Working on various kinds of Navigation systems

Advanced Colour correction techniques

Image manipulations and picture retouching

Working on PSF and XD formats

PSD to HTML conversion
HTML & CSS
Tribute Page ( Tribute a Famous Personality)

You can use paragraphs, lists, links, images with

CSS to give it a decent look.

Web Page including Form

Applying text field, checkbox, radio button, date,

and other important elements in a single form.

Parallax website

Landing Page

Restaurant or Education institute Website

An Event or a Conference Page for a Workshop

E-mailer Page

Photography Portfolio Page

Personal Webpage

Technical Documentation Page
BoostStrap 
Design Like a TV channel site (Navigation)

Fund management system (Navigation)

Hospital administration system (Navigation)

Conference Registration and Management.

(Navigation)

Learning Management System (Navigation)

InterCollege Networking. (Navigation)
JAVASCRIPT
BUILD A JAVASCRIPT CLOCK

BUILD A JAVASCRIPT TIP CALCULATOR

BUILD A JAVASCRIPT ANIMATED NAVIGATION

TOGGLE

BUILD A JAVASCRIPT MAP

BUILD A JAVASCRIPT MOUSEOVER ELEMENT

BUILD A JAVASCRIPT LOGIN AUTHENTICATION

BUILD A JAVASCRIPT TO-DO LIST

BUILD A JAVASCRIPT QUIZ

CREATE SOME SLIDING JAVASCRIPT DRAWERS.
ANGULAR
Content management and planning software

for bloggers and inbound marketers

Add dynamic status bars (order updates, etc)

to transactional email.

Fitness Social Platform
WordPress
Creating a Personal Blog Page with WordPress

Creating a Designer's Portfolio with WordPress

Converting a WP Fitness theme in an actual site

Landing page design for an education company

Using conversion extensions in a WordPress page
PROGRAMME SCHEDULE:
Normal Track
Course Duration: 6 months
Schedule: 1 Hours/ 3 Days a week
Fast Track
Course Duration:3 months
Schedule: 2 Hours/ 3 Days a week
SOFTWARE COVERED IN WEB DESIGN
Adobe Photoshop

Adobe XD

HTML4/ HTML5

CSS2/CSS3

Adobe Dreamweaver

Javascript

JQuery and JSON

Angular

WordPress

FTP, Domain binding, CPanel
AT THE END OF WEB DESIGNING CLASSES, STUDENTS WOULD BE ABLE TO
Create  core Responsive fully-functional Websites
Use web navigation on web 3.0 standards
Integrate variable scripts in a web page and create table-less websites
Upload and Launch Websites
AFTER THE COURSE, STUDENTS WOULD BE ABLE TO WORK AS
UI Designer/Developer
Front end Web Designer/Developer
DICAZO LEADER IN WEB DESIGNING TRAINING IN VAISHALI NAGAR JAIPUR
Dicazo knows it all, it ranks as one of the most reputed institutes offering web designing courses in vaishali nagar Jaipur, Dicazo has trained over 5,000 students alone in the field of web design training alone over a space of 12 years, Dicazo  also provides a multicultural environment for the student as it houses students from India, Nigeria, other parts of Africa, Afghanistan and other parts of the world.
WHY DICAZO INSTITUTE?
Dicazo has everything to train you right from designing responsive websites for computers, tablets, and mobiles, adding the latest trends in web programming to adding up-to-date multimedia content. This course comes with a placement guarantee from Dicazo based on existing vacancies among our networks of web designing companies in Jaipur. Dicazo has become a well-known name as a web designing institute favorite for these courses among the students.